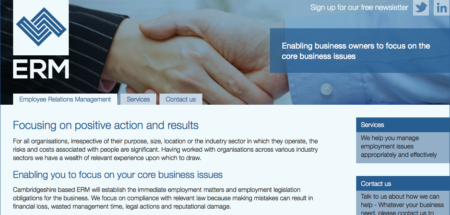 This is a small site put online in June 2016. They specialise in the employment law and the business of employing people which can seem a bit daunting to your average business man who is more focused on making his widgets than trying to keep up with the latest regulations and law.
You hear about things in the papers and news that can be quite off putting to an employer thinking of hiring more staff or their first.
Technically the site is a standard WordPress with a custom theme, some custom stripping of word markup rubbish in the admin and some rich snippets where possible in the html.
We spent quite a long time going back and forward with the logo until Teresa had something she liked and could use for the website and the new business cards she wanted.
Previously they had a default WordPress install running the 2015 theme that had never really had content added so its taking a little while for the site to be recognised as now being a real site rather than a stub.
Its setup so that in the future they can add more articles about employee relations relevant to their customers businesses and the site can grow to show their expertise.